I use a monthly calendar to help organize my posting here on Forgotten Weapons, planning out what I'll be writing and keeping track of which posts are finished and ready to go. As we started to approach the end of 2013, I needed to get a new calendar to keep going forward. And that's when it occurred to me that the 2013 calendar I'm using is a kinda boring generic thing, and I'd much rather have some more interesting pictures to look at each month. Well, I have a whole bunch of cool and interesting older photos in my database – why not make a calendar using them?
Well, I spent some time sorting through, and put together a collection of 12 great vintage photos showing a interesting guns and men using them all over the world. We've got French troops manning a St Etienne 1907 HMG, Italians posing in feathered caps, a terrific example of the "Bren Gun Grin", the business end of a Schwarzlose MG team, and more.
Those photos make the top half of the calendar look great, but what about the bottom half with the dates? I wanted that to be interesting to us gun folks as well, and I know that many of the folks reading live outside the US and aren't particularly interested in knowing when Halloween or Mother's Day is. Besides, there are always a zillion other people reminding us of those dates. So I took all the holidays off my calendar, and replaced them with the birth dates of more than 60 notable gun designers. Isn't that a lot more interesting?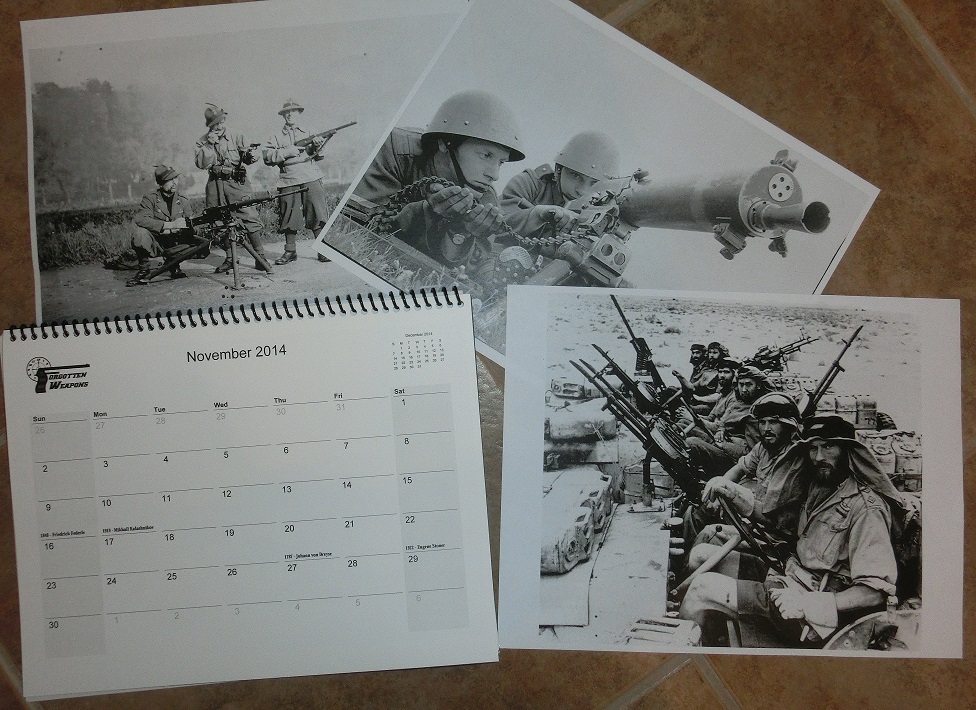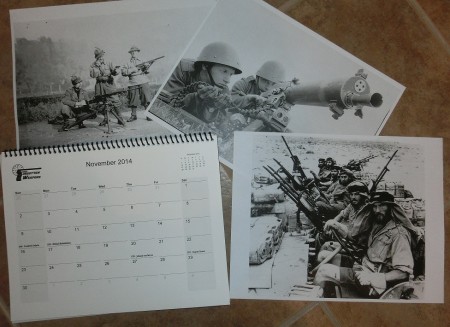 I hope that by including these birthdays I can help bring more interest to the work of these men. We all know about famous American names like Browning and Colt, but what about names like Aimo Lahti, Tullio Marengoni, and Karel Krnka (all from April, by the way)? You'll find the birthdates of these inventors and many more on the Forgotten Weapons 2014 Vintage Calendar.
All of this is printed on a nice glossy 100# paper, with a thick backing sheet, clear plastic cover, and spiral binding. I'm really excited at how nice my initial printings look, and I'm really excited to make them available.
The price for the calendar is  $14 plus shipping ($4 in the US; $14 internationally). Forgotten Weapons Premium Members will receive the discounted price of $9.99 plus shipping. I will be taking orders until December 1, and the calendars will ship out the first week of December (I may ship a batch in mid-November if there are enough orders to justify it). I am requiring prepayment, so that I know exactly how many to make.
Orders are closed – thanks to everyone who made a purchase!