I recently got in touch with a very interesting fellow with an extremely impressive resume of firearms design experience: L. James "Jim" Sullivan. He started working for Armalite in the mid 1950s as a draftsman, and began his career by redesigning the gas tube on the AR-10 to move it from the side to the top of the barrel. Building from there, he went on to b one of the primary designers of the scaled-down AR-15, the Mini-14, the Ultimax LMG, the Ruger MP-9, and many other guns. My friend Karl and I had the chance to interview him at some length, and also to try out his new set of modifications to the M4 carbine (which he has reworked around his "constant recoil" concept, in addition to other changes to improve is controllability and capacity for sustained fire). We have the shooting and the first part of our interview put together into a very cool video for InRange TV, which you can see for free over at Full30.com.
If you like this and the other material on InRange TV, I would recommend creating an account at Full30.com (it's free) and subscribing to the InRange TV and Forgotten Weapons channels – you can then get automatic email notification when we post new videos.
On a different note, do you need an idea for a holiday gift for yourself, or a gun nut in your life? Well, there are just two days left to order one of my 2015 Vintage Calendars!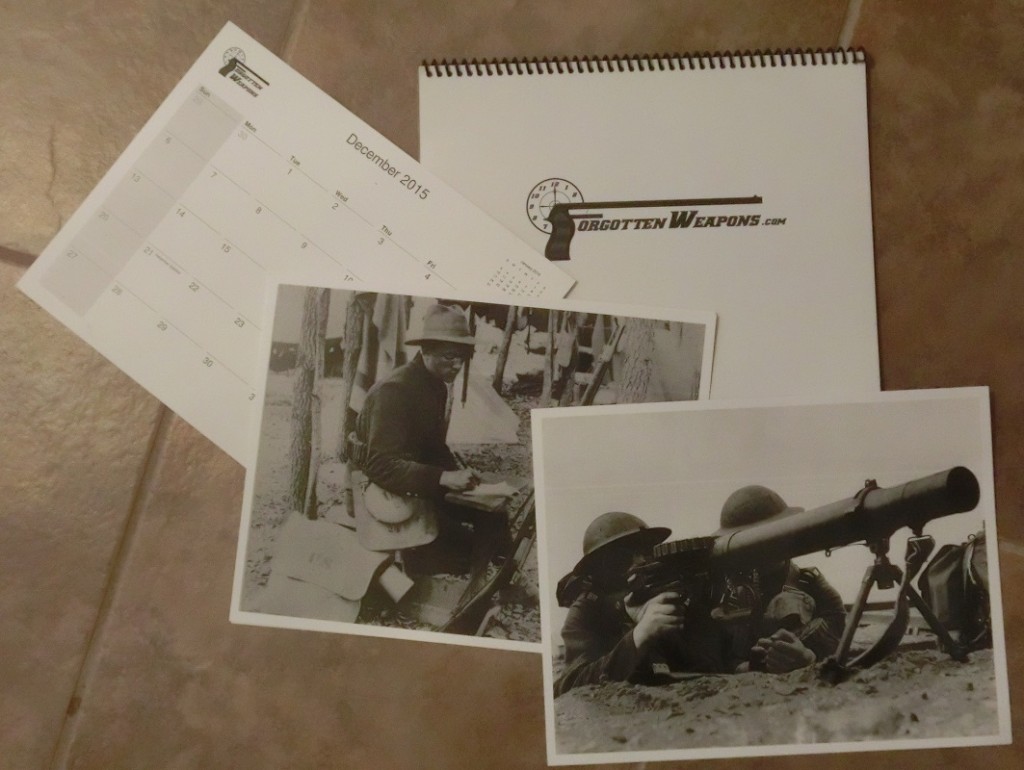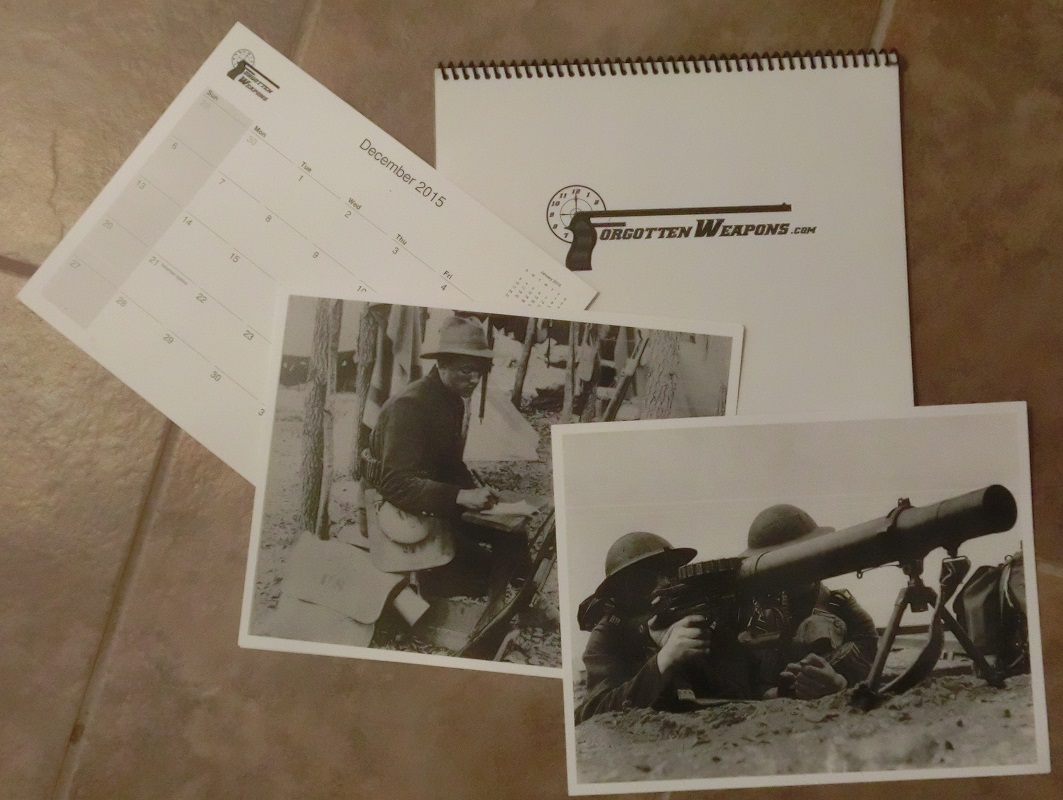 In addition to cool gun photos, you get some other elements as well. Since we have a zillion different things reminding us of holidays (and you folks in Europe really don't care about US-specific ones like Thanksgiving or Father's Day), I once again left them off the calendar. Instead, I have marked the birthdates of more than 60 famous and not-so-famous gun designers from all over the world. That's a lot more interesting, right? Hopefully, including these birthdays will also help to spur interest in some of the lesser-known names as well – like the Federle brothers or Ludwig Vorgrimler.
In addition, this year's calendar also has captions describing each photo – that was an element that was not on last year's and I had several requests to add it. All of this is printed on a nice glossy 100# paper, with a thick backing sheet, clear plastic cover, and spiral binding. I'm very happy with how nice the initial printings look, and I'm really excited to make them available. I may be a bit biased, but I believe this is the best calendar available for firearms enthusiasts – it's a great way to indulge an interest in how these guns were actually used. So get one for your own desk or office, and give a second one to a friend!

The price for the calendar is $15 plus shipping ($5 in the US; $15 internationally; no extra charge for shipping more than one to the same address). Forgotten Weapons Premium Members will receive the discounted price of $10 plus shipping (include your email address in the box when ordering, and I will refund the price difference to you). I will be taking orders until November 30, and the calendars will ship out the first or second week of December. All orders will be taken in advance, so I know how many to print.
Ordering is now closed. Thanks!