Fridtjof Brøndby was a Norwegian arms designer who created a number of self-loading rifle designs in the 1930s, including one which was submitted to the Norwegian Army for testing. He also developed a 7.62mm submachinegun, the Maskinpistol Model 1933. We don't have much information on Brøndby, but we do have a good set of photos of his 1933 design.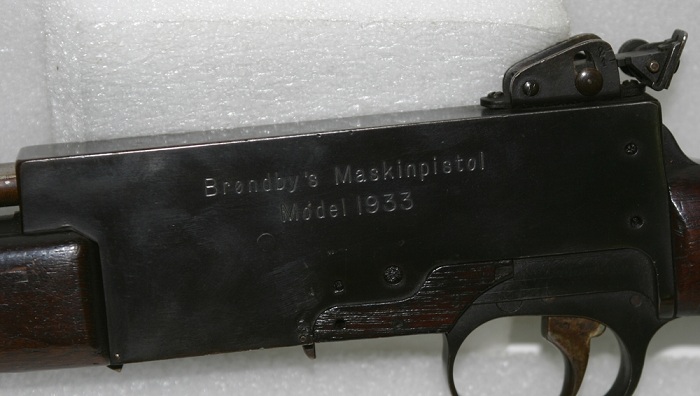 The Model 1933 was a gas-operated, locked breech design, but fired from an open bolt. We can tell that much from the photos, but not a great deal more.
One other photo we have been able to find is an unfortunately small image unearthed by Tony Williams from a British pre-WWII report, which shows the Maskinpistol 1933 along with three other of Brøndby's designs: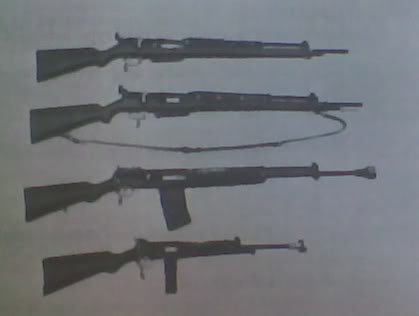 Fridtjof Brondby designed these rifles as well as a light machine gun and 20mm antitank rifle in the 1930s. His M/1937 rifle design was used in Norwegian self-loading rifle trials prior to WWII, but nothing came of the testing before war broke out and the project was dropped.

Do you have more information on Brøndby or his designs? Let us know!
Photos
Brøndby Maskinpistole M/1933 photos (click to download in high resolution)
Patents
US Patent 2,003,066 (F.N. Brondby, "Firearm of the Gas Reloading Type", May 28, 1935)
US Patent 2,233,671 (F.N. Brondby, "Gas Operated Automatic Firearm", December 3, 1940)